The modular and configurable solution to manage all your laboratory activities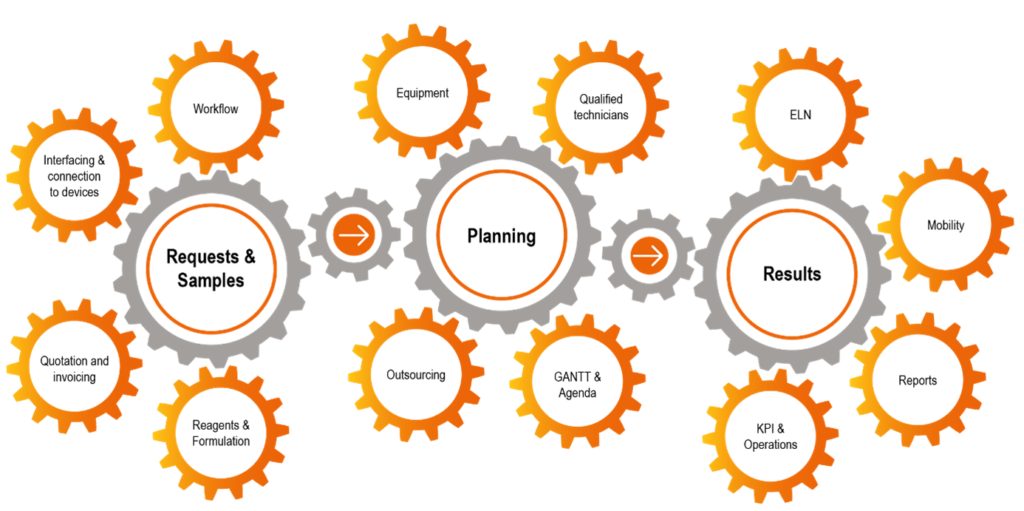 TEEXMA® enables the generation and versioning of quotes following the customer request by integrating cost items and invoicing.
TEEXMA® has all the necessary technologies for integration into the information system to interface with other tools (ERP, PLM, Data Warehouse, etc.) and to connect to devices to ensure digital continuity.
A catalog of raw materials is available in TEEXMA® including a formulation module: traceability of recipes made, stock management, updating of environmental and regulatory data: SDS.
Fully customizable, the Workflow module adapts to each customer context and allows business processes to be modeled within TEEXMA® in order to guide the user in their use.
TEEXMA® includes management of subcontractor consultations and monitoring of the laboratory's external activity. Portals are also available for subcontractors to provide them with a platform for digital continuity of the test lifecycle.
TEEXMA® allows the standardization of a single equipment management reference system that ensures the traceability of the equipment used during testing and the construction of its life record (management of preventive and curative maintenance, calibrations, etc.).
TEEXMA® provides a staff skills matrix for the test library, equipment, or standards to ensure traceability of the credentials obtained for each technician.
TEEXMA® fully supports planning processes that include real-time load calculations, technician availability, scheduled equipment maintenance in the form of GANTT charts and fully configurable schedules.
The TEEXMA® ELN module allows you to leverage, structure, and secure your research activity by documenting your projects and analyses in an ergonomic tool that makes it easy to use your data.
TEEXMA® provides interactive dashboards to manage laboratory activities and facilitate the exploitation of their technical assets: multi-criteria searches, control charts, statistical studies, etc.
TEEXMA® is available on mobile applications to support operators in the field with or without a network. The collection of results becomes automated, reliable and secure.
TEEXMA® has its own document generation tool that requires no additional installation or licensing. Based on customer templates, TEEXMA® automatically generates reports in Word, Excel, or PDF formats.